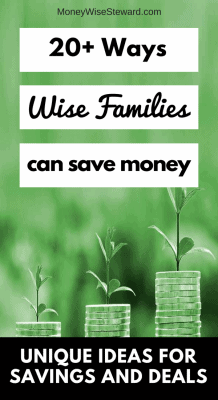 Are you ready to learn the best ways to save money? If so, you'll love this resource I compiled of the best ways to save money. I personally love saving money!  I moved out of my parent's house when I was 17 years old and had to support myself. This wasn't a bad thing, it was my choice (my parents were moving away and I didn't want to go).
One thing it did do was teach me the best ways to save money.  I started learning money-saving tips from people around me (the internet wasn't a good resource at the time).  Ever since then I've been learning the best ways to save money.
I learned how to save money with a manufacturer coupon about 9 years ago. That was fun but really time-consuming.  You can check out how in-depth it can be on my old blog,  How to Use Manufacturer Coupons. This is a great way to save money but I wouldn't consider it one of the best ways to save money. I still use manufacturer coupons but sometimes it's hard for me to keep up with them.
As I've been getting older and experiencing life, I've been finding the best ways to save money every month.  The funny part is that it has rubbed off on my family members.  We are a money saving family! I love it because it's such a great essential for living life.
I created a list below of the best ways to save money. I'm so excited to help your on your money saving journey!
The Best Ways to Save Money 
1. Get Cash Back Shopping Online
Did you know you can get cash back at most stores when you shop online? I've earned over $700 in cash back! The best part is you can shop how your normally would shop online. The best cash back site is Ebates. They are the most dependable and they do pay. Check out my step by step instructions on how to get paid to shop online with Ebates.
2. Sign up to get Offers from your Favorite Stores and Restaurants
If you have retail stores and restaurants that you go to regularly, you should go to their website and sign up for their coupons.  I have many stores and restaurants that I visit regularly.  They send me all types of useful coupons. For example, Mimi's Cafe sends me a Buy One, Get One Free entree coupon 2-3 times per month.
That saves us money with our family of 5!  If you don't want to clog up your email, set up a different email specifically for offers. It's not usually a nuisance for me because they are places that I like. A great place to find discount restaurant deals is at Restaurants.com. They have over 62,000 restaurants available nationwide. You can get certificates for up to 50% off your bill.
Check out my Restaurant Freebies for your Birthday post to sign up for some birthday freebies. You may also want to check out my post with a HUGE list of Restaurants where Kids Eat Free.
3. Make Your Own Gifts
We all celebrate birthday's and holidays so there's no denying that we give gifts multiple times a year. A great way to save is to make your own gifts. A great place to find homemade gift ideas or inexpensive gift ideas is on Pinterest. Check out my post with 10 Easy Homemade Mother's Day Gifts.
Related articles:
4. Get Rid of Cable
We've been cable free for the past 4 years. We were able to find some great cable alternatives and couldn't be happier. We are currently spending $32 a month to watch our favorite shows without cable. We are saving over $800 a year without cable. That is a huge savings! Ready to ditch cable? Check out my post about the best ways to get rid of cable. You may also want to check out how to watch movies online for free.
5. Make a Shopping List
If you make a shopping list and stick to it you will save money.  Many stores are counting on impulse buyers for business. I usually won't even go into a store if I have nothing to buy. If I do (usually because my kids want to shop), I stick to my decision "to look around". Check out my post about 12 ways to save money on groceries.
6. Shop Daily Deal Sites
There are so many daily deal sites on the internet these days. It can get very overwhelming to visit several daily deal sites. Two of my favorites are Groupon and Zulily. They are both free to join. I've used them for many years and have been very happy. They run really great deals every day. I sign up for email notifications for my favorite brands and then they send me an email when a deal is available. Talk about easy shopping! To avoid being overwhelmed, I recommend that you stick with two to three daily deal sites.
7. Use the Coupon App from your Grocery Store
I shop at Vons which is a division of Safeway. They have a great coupon app called "Just for U". Your grocery store most likely has something similar. Each week coupons and free offers are loaded to my app. All I do is go to the app and add the coupons. The great thing is that most of the time all the manufacturer coupons you print or clip are the same ones that are loaded on the coupon app.
Over time the app will start adding deals relevant to the items you normally purchase. My store offers coupons and offers for produce. I love this because It's very rare to find a produce coupon. If you aren't using your coupon app from the stores you shop at, I highly recommend you get started.
8. Look for a Local Discount Card
The Middle School in the town I live in offers a local discount card. It's only $10 for the year. It offers 10% off at many restaurants, stores, and services in my area. It basically pays for itself after a month or two. It's one of my favorite saving tools because it allows me to get a discount on local services that don't usually offer coupons or discounts.
9. Cancel your Gym Membership
I believe fitness should be a part of everyone's life. I attended the gym for 2 years before I made the decision to work out at home. Working out at home has not only been a money saver but it's also a time saver. I spend an extra 45 minutes a day just getting to and from the gym.
I've been working out successfully at home for over a year now. There are some really great workout programs you can do at home. I personally love the Beachbody On Demand workout program. They offer a lot of variety and great support. You can get a free 14 day trial to check it out for yourself.
10. Stay Home instead of Going Out
It's fun to go out to a movie or to dinner but it can get really expensive. It easily costs us $70 anytime we take our family of five out. Instead of going out, we have a movie night every Friday. The kids get really excited because we do a movie night dessert (they love sugar). We've also challenged ourselves not to eat out of the house. So far, we are doing good with that. We are actually preferring our own meals over restaurant meals now.
11. Bring your Lunch to Work
My husband works close to home so he comes home every day for lunch. He usually has leftovers or makes a sandwich. If you can't go home for lunch, you should consider bringing your lunch to work.  Lunch could easily cost $10 a day which would add up to $50 a week! That's $200 a month that you could be saving.
12. Do your Own Yardwork
I love having a nice yard. Two years ago we decided to clean up our front yard and landscape it. We got a few quotes which were over $5,000 so my husband and I decided to do it ourselves. It took us about a week to complete but we only spent $2,000. To this day we handle all our own yard work. I admit that I'm a little jealous of my neighbors when their gardeners arrive. It's very tempting to hire someone. At the end of the day, I'm more excited about the money we're able to save doing it ourselves.
13. Participate in Free Offers
One of the things I love to post on my blog are offers for free things and free activities. There are lots of places that offer free events, free food and more. Make sure to stay up to date with my free stuff posts so you can have some free fun!
14. Plan your Weekly Meals around your Grocery Store Ad
I make dinner every day of the week. My mission is to go to the grocery store once a week. That means I have to meal plan. Check out my how to create a meal plan post. Each week, I set up my grocery list with my meal plan for the week.  One great way of saving is to match my meals to what's on sale.  This works for us and has saved us a lot of money.
15. Purchase Generic Items
I'm a huge believer that when I buy a name brand, I'm buying the name. There are so many items that are exactly the same.  Let's take food for example. You can look at the ingredients of the name brand and the generic brand and they are exactly the same. There are a few items that I'm willing to pay for the name brand because I do see a difference. Other than that, I buy generic. In addition to the generic grocery store deals, you can buy generic and save big with promo codes for Amazon. I post Amazon promo code deals daily.
16. Lessen your Wardrobe
I don't buy clothes very often. I mix and match all my clothes so I don't need a lot. It also relieves me of stressing about what I'm going to wear.
17. Buy Used Clothing
There are a lot of people who buy clothes and never wear them or wear them only a few times.  They end up donating the clothing to a thrift store. Sometimes the clothes still have tags on them. This is a great way to get nice clothes for a fraction of the price. Did you know that you can buy used clothing online? Check out my post about how you can shop for used clothing online and save big.
18. Utilize your Local Library
We use the library a lot. You'd be surprised at what you can find there.  It's a great way to eliminate clutter and save money on purchases. Make sure you check out the free Kindle books to download as well.
19. Save on Utilities
We live in a mountain community where the outside temperature averages between 20 degrees and 40 degrees in the winter and up to 90 degrees in the summer. You can save lots of money on your gas and electric bill if you manage the heater and air conditioning. Most people want to be comfortable. That's fine if you're willing to pay for it. We keep our heater at 60 degrees (in the day) and 64 degrees (at night) during the winter.
Trust me, we get complaints from the kids about being cold.  My kids complain about everything (it's easy to complain when you aren't working to support a household). We have plenty of blankets and clothes to keep ourselves warm.  You can also use your fireplace if you need to stay warm. We have a fireplace but it's not wood burning.
20. Buy Discounted Gift Cards
There is a great service that sells discounted gift cards. You can actually save money by purchasing used gift card. Sites like Raise.com can help you get a great deal on a gift card.
21. Visit my Blog for Great Online Deals
I like to post my favorite online deals on this blog including Amazon promo codes deals, freebies and more! I sort through many deals daily and post the best ones! You can follow my blog on social media but the best way to follow it is by email subscription (you'll receive one email a day with a summary of all the deals I've posted). Don't miss another deal!
I love finding the best ways to save money. I will be adding to this list and posting more in-depth ideas for the best ways to save money.  Saving money can turn into a chore and we don't want that.  These are easy and the best ways to save money each month.
I'd love to hear about how you save money.  What do you think is one of the best ways to save money?